SERVING A WIDE VARIETY OF INDUSTRIES
Bliss Machine, Inc. serves all industries with turn-key production and machine shop services because we have a wide variety of capabilities and state-of-the-art equipment. We can produce small micro objects to larger parts with high precision.
Aerospace/Defense
With the ability to machine prototypes for your application, Bliss Machine, Inc. is your one stop shop from design to production. Our precision capabilities can easily suite any type of aerospace component specifications.
Automotive
Bliss Machine Inc.'s CNC machining, selection of materials, and quality assurance allow us to manufacture high precision components for your automotive needs. Our engineers and machinists will ensure that your parts a machined and assembled according to your exact specifications.
Transportation
Only the finest machined product materials are used the transportation industry. Our experienced CNC machinists and engineers machine parts with close tolerances and can produce in high quantities.
Medical
Medical device parts require a high degree of tolerance, precision, and accuracy. Bliss Machine is the trusted vendor for CNC machined parts for the medical device industry.
Consumer Goods
Consumer goods is a evolving industry that requires a vast amount of machined parts to make products complete. Bliss Machine, Inc. provides rapid quotes and fast turnaround times so products can be prototyped and then put into mass production at a quicker time frame.
Construction
Our CNC machine shop can manufacture miscellaneous construction parts for heavy-duty or micro sized equipment. CNC Milling, CNC Turning, CNC Swiss Turning and 5-Axis CNC Milling for custom built homes and commercial industries.
Robotics
Robotics manufacturing requires a large amount of precise parts to achieve the overall motion and movement of the end product. Bliss Machine, Inc. is a trusted source to ensure the parts fit together and operate as needed.
Oil & Gas
The Oil and Gas industries constantly require parts to be machined with high tolerances, complex designs and varying materials. Our extensive experience in CNC machined parts for these industries has earned Bliss Machine, Inc. a reputation of excellence.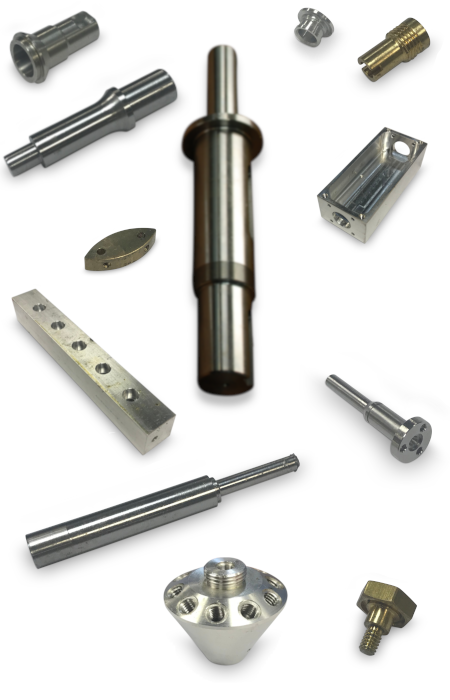 ISO CERTIFIED
Bliss Machine, Inc. is proud to be ISO 9001:2015 certified, allowing us to give customers complete confidence in our control over materials and processes.
Bliss Machine's success is brought about directly from the success of our clients. As an ISO 9001:2015 certified CNC Machine Shop, you are assured our services meet industry quality standards. We exceed these standards with a dedication to precision demonstrated by our experienced and talented employees, cutting-edge CNC machines and a facility designed to handle high-volume productions. For services such as CNC Swiss turning, 5-axis CNC milling, CNC turning, CNC milling and CNC quality & inspection – rely on no other Machine Shop than Bliss Machine, Inc.
Contact Bliss Machine to get a quote for your project today.
No Minimum and No Maximum Quantities Required.